The Ultimate SmartLinkô Lure System Story
Tired of losing expensive lures, anglers needed a new solution!
The engineers of Ultimate R&D worked with experienced anglers in developing this
Nickel Titanium link that relies on its shape memory properties
to release snagged lures and return to its original shape,
ready to 'save' the day over and over again.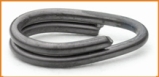 Aware of NiTi's capabilites to 'snap back' into shape, Ultimate R&D engineers knew there was a solution at hand. Design considerations included size and weight restrictions, a variety of release loads based on fishing rod line weight and line test, as well as ease of use.
Our CAD-CAM expertise, in-house machine shop, test lab, and manufacturing facilities allowed for fine-tuning the design until all output criteria were met.
The Ultimate SmartLink™ Lure System, designed and developed by Ultimate R&D engineers, won the American Sportfishing Association Best in Category Award for terminal tackle!
---
From design assistance, to development, through full production, Ultimate R&D can help! Call us today!

|

|

Share